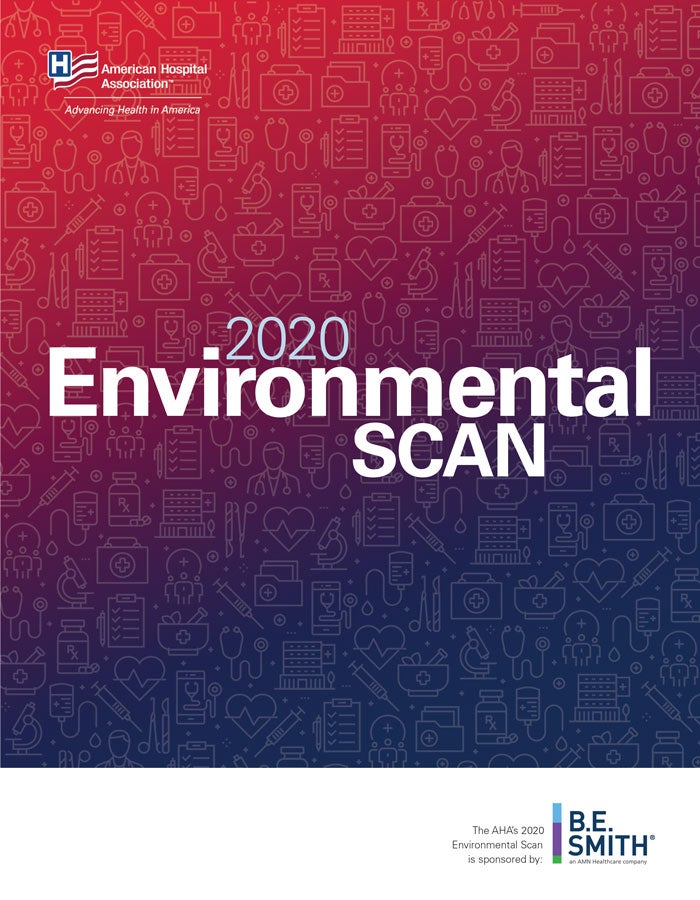 Implications for the coming year and beyond
The 2020 AHA Environmental Scan details data and trends that have implications for the health care field for the coming year and beyond. The Scan will help your staff, leadership and board strategize and plan for the future.
Topics in this publication include:
Access, including coverage and workforce issues.
Health, including social determinants, behavioral health and aging.
Innovation, including digital health, disruptive innovation and artificial intelligence.
Affordability and Value, including cost to stakeholders, care delivery trends and performance improvement.
Individuals as Partners, including patient engagement in a digital, diverse world.
The Impact and Landscape of Hospitals and Health Systems, including the economic impact of hospitals, cybersecurity, rural health and general trends.
The 2020 Environmental Scan is sponsored by B.E. Smith.
Also Available:
An AHA members-only PowerPoint presentation is designed to help share 2020 Environmental Scan insights with various stakeholders and your community.
AHA Scan and Plan resources can catalyze strategic discussions and action within your organization as you navigate environmental trends in 2020 and beyond.
No resources of this type available