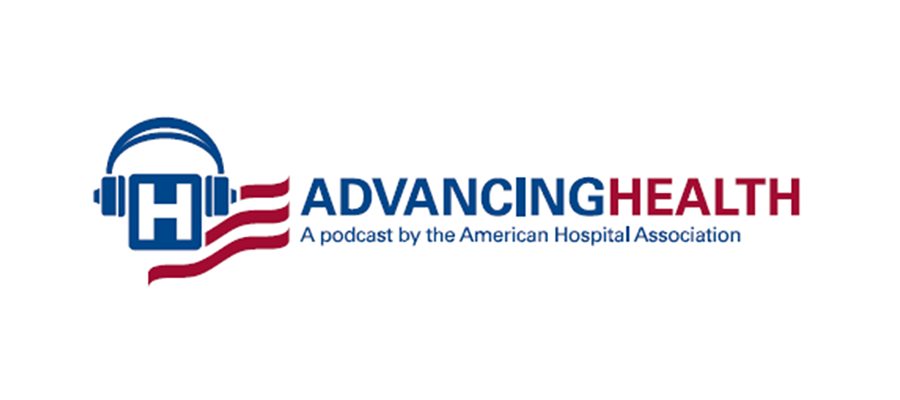 Advancing Health is the American Hospital Association's podcast series. Podcasts will feature conversations with hospital and health system leaders on a variety of issues that impact patients and communities. Look for new episodes directly from your mobile device by using SoundCloud. You can also listen to the podcasts directly by clicking below.
Recent Podcasts
Evaluating protocols to improve care and reduce costs | July 10, 2019
Eliminating unnecessary medical tests and procedures can be as important in delivering high-quality care as providing the right interventions. On this AHA Advancing Health Podcast, we speak with Pamela Johnson, vice chair of quality safety and value for the department of radiology at John Hopkins Health, who discusses how one major health system is taking a hard look at its treatment protocols, thereby improving quality outcomes and decreasing health care costs.
---
Healthcare Without an Address | June 24, 2019
Today's health care consumers value convenience as a major influence in their decision-making about their care. Hospitals and health systems have responded by greatly increasing access, bringing care services to outreach clinics, homes, and other venues that meet patients where they are. This AHA podcast, "Healthcare Without an Address," takes a look at how the new emphasis on mobility and convenience is advancing health in America.
---
Reducing Burnout in Behavioral Health Providers | June 19, 2019
Jordan Steiger, from the AHA Center for Health Innovation, and Suzette Urbaschich, director of Rogers InHealth in Wisconsin, discuss the stress of working in emotionally draining and intellectually demanding health care environments and strategies to reduce burnout.
---
Rural City Part of Groundbreaking Heart Disease Prevention Initiative | June 12, 2019
On this AHA Advancing Health podcast, The Value Initiative series continues with a four-way conversation discussing how the Heart of New Ulm project in Minnesota aims to reduce heart disease and prevent cardiovascular problems before they appear. Guests include Julia Resnick, senior program manager, AHA; Carisa Bugler, director of operations, New Ulm Medical Center; and two others from the partnership.
---
A Health Equity and Community Health Conversation | June 5, 2019
On this AHA Advancing Health podcast, Nancy Myers, vice president of leadership and system innovation for the AHA Center for Health Innovation, and Duane Reynolds, president and CEO of the Institute for Diversity and Health Equity, discuss health equity and its relationship to community health.
---
Collaboration | AHA Executive Forum, Atlanta, GA | May 29, 2019
Earlier this month, The Value Initiative hosted an AHA Executive Forum in Atlanta where hospital and health system leaders shared insights and explored opportunities to address value and affordability in health care. While the forum explored a variety of topics one theme resonated throughout the day – collaboration.
---
How Rural Communities Can Address Behavioral Health Care Challenges | May 29, 2019
In this inaugural AHA rural health podcast, Shelly Rivello, director of integrated care at J.C. Blair Health System in Huntington, Pa., and Carrie Henning-Smith, assistant professor and deputy director of the University of Minnesota's Rural Health Research Center in Minneapolis, discuss innovative models and evidence-based practices to increase access to behavioral health care and integrate mental health services into primary care. Listen on our Advancing Health channel
---
Connecting Care with Community | May 22, 2019
Population health is a term that is used widely, but often not defined. In this podcast, Nancy Myers, AHA's Vice President of Leadership and System Innovation, talks about how AHA is framing its population health work to support the field and providing new tools and resources that identify common elements in a successful approach.
---
Podcast Archive
CDC Leader Discusses Collaborations to Improve Maternal Health | May 8, 2019
Improving maternal safety and outcomes in the US is a top priority. While we have seen some success in improving outcomes, we must continue to pursue advancements in maternal care. We means hospitals, health systems, clinicians, and community partners – all supporting mothers and doing more to improve their care.
In this Advancing Health podcast, Jay Bhatt, senior vice president and chief medical officer for the American Hospital Association speaks with Rear Admiral Wanda Barfield, the director of the division of reproductive health for the CDC.
---
How Clinical and Community Collaboratives Innovate | May 8, 2019
In the third and final installation of the Healthy, Equitable and Resilient Communities podcast series, we feature Saint Anthony Hospital's Collaborative for Community Wellness, a Chicago-based collaborative comprised of 22 community-based organizations. We speak with Dr. Arturo Carillo, the mental health and family support manager of Saint Anthony Hospital and Patrick Brosnan, executive director of Brighton Park Neighborhood Council.
---
Presbyterian Healthcare Services engages in partnerships to address substance use disorders | May 1, 2019
At Presbyterian – a not-for-profit integrated health system with nine hospitals, a medical group and a health plan in New Mexico – their Integrated Substance Use Disorder and Community Collaborative Initiative is designed to strengthen improve outcomes for patients, families and members affected by substance use disorders through a holistic approach. Dr. Daniel Duhigg, medical director for addiction services at Presybyterian Healthcare Services discusses their methods in this Advancing Health podcast.
---
Peer Support Makes the Difference in Treating Opioid Use Disorder | April 24, 2019
Parkview Health of Ft. Wayne, Ind., came in first in AHA's 2018 Innovation Challenge with bold new thinking about the best way to treat opioid use disorder patients. Its model features peer coaching via a mobile app that is designed to support patients anywhere and in the moment. In this podcast, AHA's Dr. Jay Bhatt speaks with Parkview Health president Ben Miles about his organization's approach - and why peer support and encouragement can be such an effective tool in the battle against addiction. Sponsored in part by First American Healthcare Finance, the AHA's Innovation Challenge is a juried award program to source and spread new ideas and novel approaches for integrated care delivery.
---
Vanderbilt University Medical Center: New Approaches to Neonatal Abstinence Syndrome | April 17, 2019 
In the United States, one infant is born every 15 minutes with withdrawal symptoms after being exposed to opioids before birth -- Neonatal Abstinence Syndrome (NAS) -- according to a new study published in the journal Pediatrics. Typically, affected neonates must remain hospitalized, usually in neonatal intensive care units, for monitoring and management of opioid withdrawal symptoms. Hospital length of stay (LOS) for these neonates averages 17-23 days. In this podcast featuring Dr. Stephen Patrick, an attending neonatologist at Monroe Carell Jr. Children's Hospital at Vanderbilt and Director of the Vanderbilt Center for Child Health Policy, discusses how he's improving outcomes for opioid-exposed infants and women with substance-use disorders and reduced NAS infant's LOS.
---
How Health Disparities Data Informs Change | April 17, 2019
The second installation of the Healthy, Equitable, and Resilient Communities podcast series — which highlights member hospitals and UnidsoUS affiliates working together to address disparities, violence and trauma — is now available. Dr. Arturo Carrillo, mental health and family support manager, St. Anthony Hospital's Community Wellness Program and Patrick Brosnan, executive director, Brighton Park Neighborhood Council, provide learnings and key insights on the importance of driving policy changes in Chicago through their research on mental health care access.
---
Midland Memorial uses predictive analytics to maximize nurse staffing | April 3, 2019
To improve staffing capacity, Midland Memorial Hospital in Midland, TX, uses predictive analytics. Hear from two executives, Bob Dent, senior vice president, chief operating officer and chief nursing officer, and Brandi McDonald, director of clinical operations, how the system creates value through higher patient experience scores, lower labor costs, less overtime and higher nurse satisfaction scores.
---
Disrupting the High Price of Generic Drugs | April 3, 2019
Civica Rx is the brainchild of hospitals and health systems that formed a collaborative to hold down the spiraling costs of essential generic drugs. How is the plan working out? Civica Rx President and CEO Martin VanTrieste shares an update on the organization's efforts on a new AHA Advancing Health podcast.
---
Breaking Down Mental Health: Disparities in Access to Mental Health | March 29, 2019
This podcast, the first installment in the Healthy, Equitable, and Resilient Communities series, features Saint Anthony Hospital's Dr. Arturo Carrillo, manager of the community wellness program and Patrick Brosnan, executive director of Brighton Park Neighborhood Council to discuss the work of the Collaborative for Community Wellness and how this work is advancing the health of communities.
---
Chairman's File Podcast: Must-have Capabilities for Tomorrow's Health Care Leaders | March 11, 2019
Health care is undergoing tremendous transformation. Among the forces at play is the rise in consumerism — patients taking on increasing responsibility in selecting plans, providers and treatment options — which will require the next generation of leaders to think and adapt in new ways.
On March 9 as part of a panel sponsored by the AHA's The Value Initiative and Dell Medical School at the University of Texas at Austin and hosted in conjunction with the South by Southwest Festival, AHA Chairman Brian Gragnolati, John Haupert, AHA Board member and president and CEO of Atlanta's Grady Health System, and S. Claiborne "Clay" Johnston, M.D., dean and vice president for medical affairs of Dell Medical School at The University of Texas at Austin, participated in a discussion on this topic. Priya Bathija, vice president of AHA's The Value Initiative, moderated the discussion focused on the capabilities and skills needed to lead complex, value-focused health care organizations into the future.
---
Chairman's File: Making Health Care More Affordable | January 27, 2019
Health care affordability is a key issue for consumers, hospitals and health systems. While health care leaders have been tackling the issue head on – redesigning care and implementing operational efficiencies – solving this complex challenge will require us all to think differently and more collaboratively.
On this inaugural podcast on Advancing Health, the AHA's new podcast channel, you'll hear highlights from AHA Chair Brian Gragnolati's recent discussion of affordability and value with Maryjane Wurth, AHA executive vice president, and Priya Bathija, vice president of The AHA Value Initiative.
---
Five Questions with Priya Bathija | December 11, 2018
AHA's Tom Haederle sits down with Priya Bathija, vice president of The AHA Value Initiative, to discuss the first year of the Initiative and plans for its future.
---
Discussing the Center for Health Innovation with Lindsey Burghstahler | January 2, 2019
Tom Haederle discusses the Center for Health Innovation and it new Market Insights series with Lindsey Burghstahler, the Center's vice president of programming and intelligence.
No resources of this type available