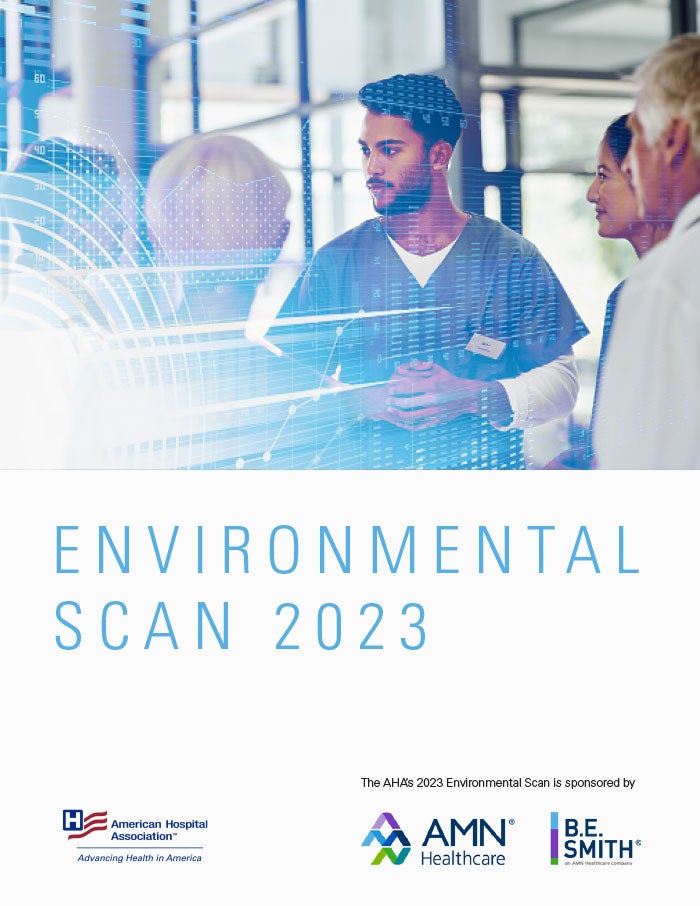 Implications for the coming year and beyond
For more than two years since the outset of the COVID-19 pandemic, America's hospitals and health systems have been on the front lines caring for patients and protecting communities. This experience has reshaped the health care environment. The 2023 AHA Environmental Scan details data and trends that have implications for the health care field for the coming year and beyond. The scan will help your staff, leaders and board strategize and plan for the future.
The scan provides an overview of past, current and future trends on a variety of important topics:
Hospital and health system landscape: Financial challenges, waivers and care in alternative settings.
Workforce: Shortages, burnout and technology to enhance the workforce experience.
Health equity: Health disparities and societal factors that influence health.
Behavioral health: The pandemic's impact on mental health, substance misuse and telebehavioral health.
Affordability and access: Coverage and affordability to the consumer, employers and employees.
Rural Health: Closures, the Rural Emergency Hospital designation and innovative solutions for the future.
Consumerism: EHR patient engagement, telehealth and hyper-personalized care.
Social and demographic trends: Larger shifts in the environment, such as the Great Resignation, climate change and population trends.
The 2023 Environmental Scan is sponsored by B.E. Smith, an AMN Healthcare company.
Also Available:
The 2023 Environmental Scan Leadership Discussion Guide helps hospitals and other stakeholders use the scan to strategize and think about key issues.
An AHA member-only PowerPoint presentation is designed to help share 2023 Environmental Scan insights with various stakeholders and your community.
The 2024 AHA Health Care Workforce Scan will help you better understand the latest forces and trends affecting health care human resources. This resource provides workforce insights to guide your organization forward during this time of uncertainty and continued transformation.
The AHA's Society for Health Care Strategy & Market Development (SHSMD) offers a deep dive into key forces that are transforming the future of health care through Futurescan 2023-2028.
No resources of this type available