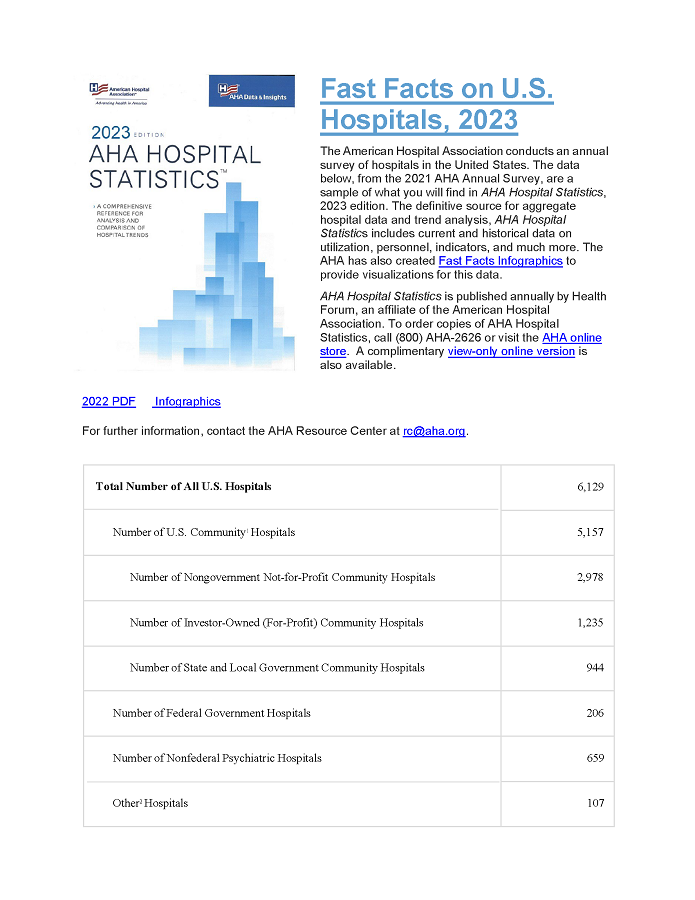 Fast Facts on U.S. Hospitals, 2023
There are 6,129 hospitals in the United States. As the national voice and advocate for the nation's hospitals and health systems, the American Hospital Association is committed to providing hospital statistics like this and data to support the field, including its annual survey of hospitals in the United States. Among other data points, the survey includes the number of government hospitals, the number hospitals in each state, and the number of hospital beds. The data below, from the 2021 AHA Annual Survey, are a sample of what you will find in AHA Hospital Statistics, 2023 edition. The AHA has also created Fast Facts Infographics to provide visualizations for this data.
With American Hospital Association's rich and growing set of data, we're empowering hospitals, health systems and their business partners to discover new directions, set strategies and plan actions for success in today's evolving health care landscape.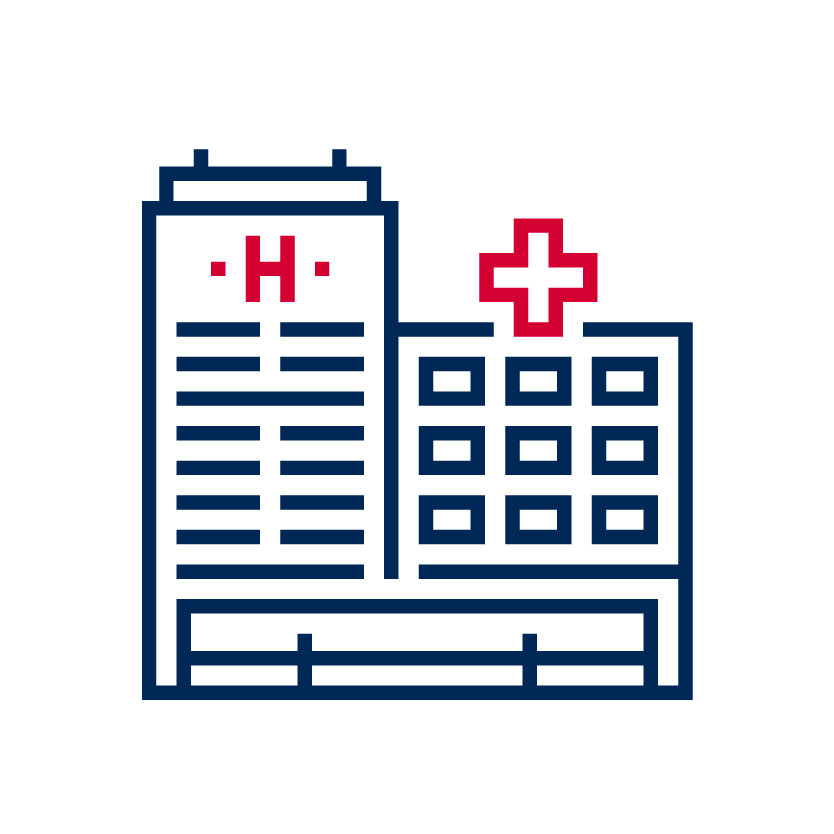 Data provided by over 6,200 hospitals and 400 health care systems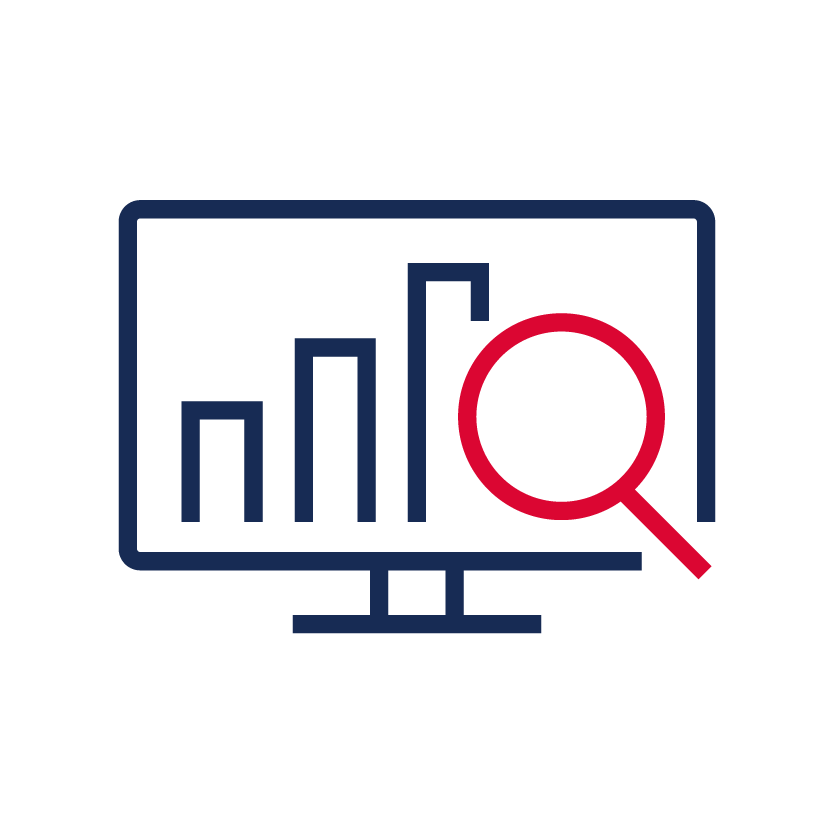 Featuring over 1,300 hospital data points directly from the source
---
U.S. Hospital Statistics: Number of Hospitals, Staffed Hospital Beds, and Admissions
| | |
| --- | --- |
| Total Number of All U.S. Hospitals | 6,129 |
| Number of U.S. Community1 Hospitals | 5,157 |
| Number of Nongovernment Not-for-Profit Community Hospitals | 2,978 |
| Number of Investor-Owned (For-Profit) Community Hospitals | 1,235 |
| Number of State and Local Government Community Hospitals | 944 |
| Number of Federal Government Hospitals | 206 |
| Number of Nonfederal Psychiatric Hospitals | 659 |
| Other2 Hospitals | 107 |
| Total Staffed Beds in All U.S. Hospitals | 919,649 |
| Staffed Beds in Community1 Hospitals | 787,987 |
| Total Admissions in All U.S. Hospitals | 34,011,386 |
| Admissions in Community1 Hospitals | 31,967,073 |
| Number of Rural Community Hospitals | 1,800 |
| Number of Urban Community Hospitals | 3,357 |
| Number of Community Hospitals in a System3 | 3,514 |
---
Community hospitals are defined as all nonfederal, short-term general, and other special hospitals. Other special hospitals include obstetrics and gynecology; eye, ear, nose, and throat; long term acute-care; rehabilitation; orthopedic; and other individually described specialty services. Community hospitals include academic medical centers or other teaching hospitals if they are nonfederal short-term hospitals. Excluded are hospitals not accessible by the general public, such as prison hospitals or college infirmaries.
Other hospitals include nonfederal long term care hospitals and hospital units within an institution such as a prison hospital or school infirmary. Long term care hospitals may be defined by different methods; here they include other hospitals with an average length of stay of 30 or more days.
System is defined by AHA as either a multihospital or a diversified single hospital system. A multihospital system is two or more hospitals owned, leased, sponsored, or contract managed by a central organization. Single, freestanding hospitals may be categorized as a system by bringing into membership three or more, and at least 25 percent, of their owned or leased non-hospital pre-acute or post-acute health care organizations. System affiliation does not preclude network participation.
© 2023 by Health Forum LLC, an affiliate of the American Hospital Association
Updated May 2023
---
---
Use the map below to find individual hospitals in the U.S. Click on the "Go to AHA Guide Profile" link to see how many staffed beds are in a hospital.
Key Resources
No resources of this type available